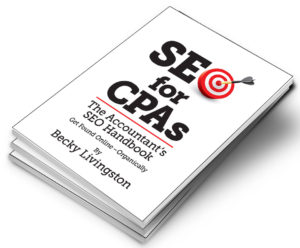 Becky Livingston has been a professional writer and blogger for more than 20 years. Below is a short list of accomplishments.
"SEO for CPAs: The Accountant's Handbook" SEO for CPAs was written with basic- and advanced-SEO techniques any size firm can begin using immediately. You'll get SEO techniques you can begin putting into place today to gain search rankings tomorrow.
"The Accountant's Social Media Handbook" is jammed packed with over 200 pages of content, activities, case studies, and more to help accountants to build their online marketing plan and social media programs. Available from CPA Trendlines, this book is a must-have for forward-thinking CPAs.