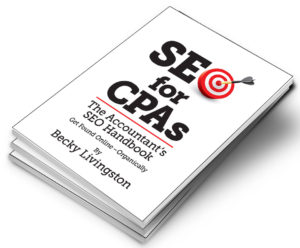 Becky Livingston has been a professional writer and blogger for more than 25 years. Below is a short list of accomplishments.
"The B2B Marketer's Guide to AI: Strategies, Tactics & Tools for Success" (available in Kindle and Paperback) This book gives readers a comprehensive understanding of how Artificial Intelligence (AI) is transforming the world of B2B / accounting marketing. With this information, readers are able to take control of their marketing strategies, understand client needs, anticipate demands, and stay ahead of the competition.
"SEO for CPAs: The Accountant's Handbook" this book was written with basic- and advanced-SEO techniques any size firm can begin using immediately. You'll get SEO techniques you can begin putting into place today to gain search rankings tomorrow.
"The Accountant's Social Media Handbook" is jammed packed with over 200 pages of content, activities, case studies, and more to help accountants to build their online marketing plan and social media programs. Available from CPA Trendlines, this book is a must-have for forward-thinking CPAs.
"SEO Secrets, Myths, and Truths to Being Found Online" is found on Amazon. SEO is one of the best and most trusted ways to be found online. The goal of this primer is to provide you with the tools you can use to increase search recognition for your brand, including gaining insight into being found online; hearing the truths and forgetting the myths about SEO; conducting research to find the right keywords for your business; and implementing the keywords once you find them. In addition, you'll read about other SEO tips, tricks, and techniques you can begin putting in place today to gain search rankings tomorrow.