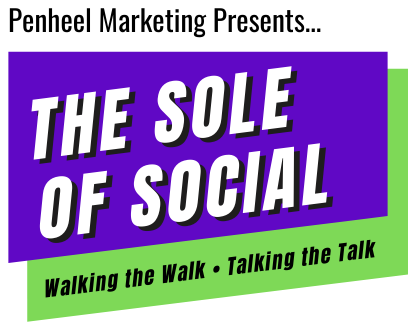 Check out the Penheel Marketing's The Sole of Social Media Playlist.
Um… isn't sole spelled wrong? Not in this case, since my brand name is about the high heels I used to love. (Clever, I know!)
In these episodes, I am kicking it up a notch by asking you what your burning social media questions might be?
If you have a social media question, send it in. I might tackle it in an upcoming episode.
In this nine-minute video, I answer the following questions:
Q. If I am in the middle of a campaign and I want to edit it. How can I do that without starting a new one and paying for a new one? Will this count as my 3 ad sample or would this be a 4th?
Q. Why do almost all social media platforms seem to go from "social" media to a place where likes turn into sales, and selfies into ads, rather than remaining strictly a social connectivity platform?
Q. What's better? A boosted post or a Facebook ad?
Q. My Facebook ads do well as far as to reach and engagement, but they don't result in many sales. What am I doing wrong?
Q. I know I should be doing videos, but I'm at a loss for what kind of videos my business would do. Could you give me some examples of different types of videos?
Q. How do I go about finding an influencer?  Are there such things as micro-influencers? I run a local ice cream shop.
Q. Any tips for creating content during a pandemic? I use a lot of local locations for photoshoots which are now closed.
Q. How often should I be posting on different platforms?
Q. Should my Instagram account have a "theme"? I've seen companies that only use pink images, for example.
Q. I can't get anyone to follow my business on social media. What are some ways to reach people without spending a lot of money?
Q. Given increased censorship, lack of transparency, and billions of messages, how can social media (Facebook, etc.) sustain its viability and growth as an effective and efficient advertising media?
Q. How to understand the algorithm and why is it important?