Here are 13 things you can do to grow your company's social media presence, increase brand awareness, generate leads, and escalate your audience share of voice (i.e., thought leadership).
Post something (a graphic, reel, video, carousel, photo, go live) on a regular basis
Start 3-5 new conversations with new accounts (comments are a great place to do this) each day/week
Spend 20 – 30 minutes engaging with other posts from people you follow, hashtags, or replying to posts
Prepare/schedule a post
Save posts that inspire you or give you an idea for what YOU can post
Collaborate with someone in your niche to create content, host a webinar, write a blog, etc.
Repurpose content, e.g., turn a best practice blog or post into a YouTube video
Turn a checklist into several social media posts
Save Instagram Reels before you post them, add text and then upload them to TikTok
Recap your best posts for the week/month and share in an email with clients, link them to your social
Turn Instagram carousel posts into blog articles, podcast episodes, or video clips
Reply to comments when you get them
Use and follow relevant hashtags
Example for #8
To maximize your time, increase content exposure, and fill your content schedule, discover ways to take one piece of content and break it into several things.
For example, I wrote a blog, 5 Content Curation Tips to Fill Your Social Media Calendar, that had five elements in it. Those five items became a social media graphic, two social media posts with images, a poll, and a video. Each was scheduled on social over a period of two months.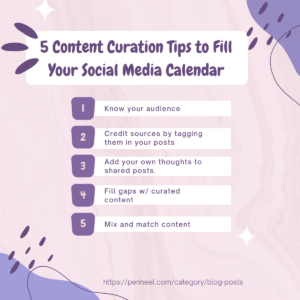 Here are the social media posts. You'll notice I use the same hashtags to help increase exposure for the topic. The posts are written with a different focus in mind because my audience may react to different messages.
5 Content Curation Tips to Fill Your Social Media Calendar – Avoid the delay and find content that works for your customer today. It's okay to curate content. Here are 5 ways. #ContentDevelopment #ContentCuration #SocialMediaTips
Do you mix and match your original content with curated content (other people's stuff)? If not, here's why you should. #ContentDevelopment #ContentCuration #SocialMediaTips
What do you love about using curated content in your social media strategy? [poll]
Helps to fill in the gaps
Demonstrates industry knowledge
Increases brand reach
All of the above
When creating your content schedule, keep in mind social media algorithms are tricky. Of times, organic posts (non-paid) reach your audience 1-5% of the time on any given day. That means you can post the content more than once each month on different days and/or times. By switching the graphic/image and swapping out the text, your audience might react to one more than the other.
Want more tips like these?
Sign up for our monthly newsletter that's filled with marketing tips.