When I was a little kid, my older brother would always sit next to me. "Peas in a pod," my mother would say. Then he'd sometimes point his finger close to my face and say, "I'm not touching you." He was in my personal space, but not quite touching me. It would drive me crazy.
Is that what's happening with potential leads in your business? You're there, but not in a truly relevant way.
Marketing and sales touchpoints are crucial to gaining new clients and increasing the speed in which leads move through the marketing funnel.
Here are thirteen touchpoint ideas to help you land that lead, rather than just annoy them with recurring emails, voicemails, and lack-luster content. Mix and match until you find a winning combination for your business.
Phone call – write a series of scripts you can use to draw them toward a hard lead.
Email
Social Media
In-person events/meetings
Webinars
Free consultations
Demos
Platform-specific case studies
Product spec sheets
Remarketing ads for people who visit specific pages on a website or click on a link in social media ads, such as a pricing page or downloadable content page
Website landing pages (form pages)
Direct marketing (mail or subscription-based services)
Referrals and word of mouth
When would you use a combination of these touchpoints? See the chart below.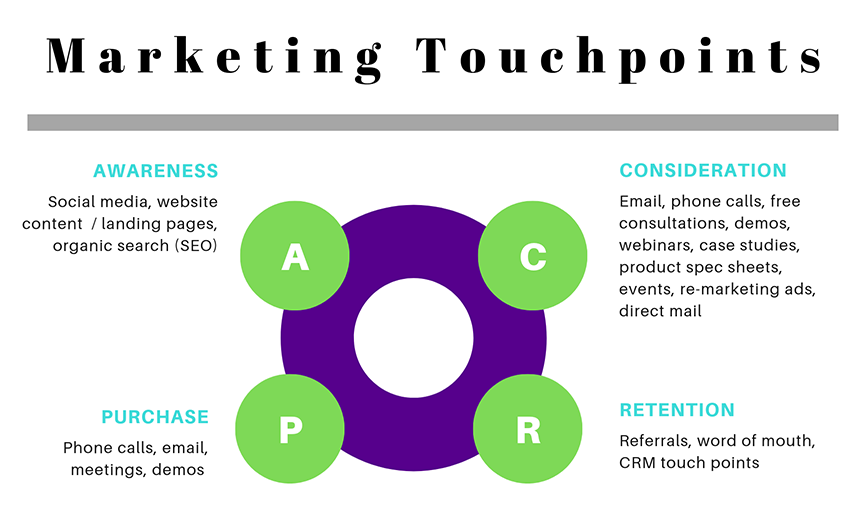 What touchpoint combination have you found to be successful? Or, do you have another combination that works? Enter it in the comments.
Additional Resources