As I take stock of where I want my business to go and how I plan to get there, it often think about content development and lead generation for my brand.
The  Process
In order to keep focused on this goal and to avoid distractions, I take an hour and:
Step away from my desk with a pad a paper (yep…those old-school tools);
Write down all the content ideas I want to be found for over the next 12 months;
Research top hashtags using Hashtagify.me;
Examine my website analytics for the top search terms people use to find my brand organically;
Think about the media format for my content, e.g., video, blog, downloadable, checklist, infographic, etc.
Create a 12-month calendar.
What's the secret?
The secret is to keep the list very simple.
It's something I look at often to help keep me focused; so, it needs to be clear and easy to understand.
I also share the calendar with my team so they know what I plan to focus on each month. I post it on a shared, cloud-based tool so we can reference it whenever needed.
What's it look like?
Here is a sample of what the plan looks like. Pretty simple, right?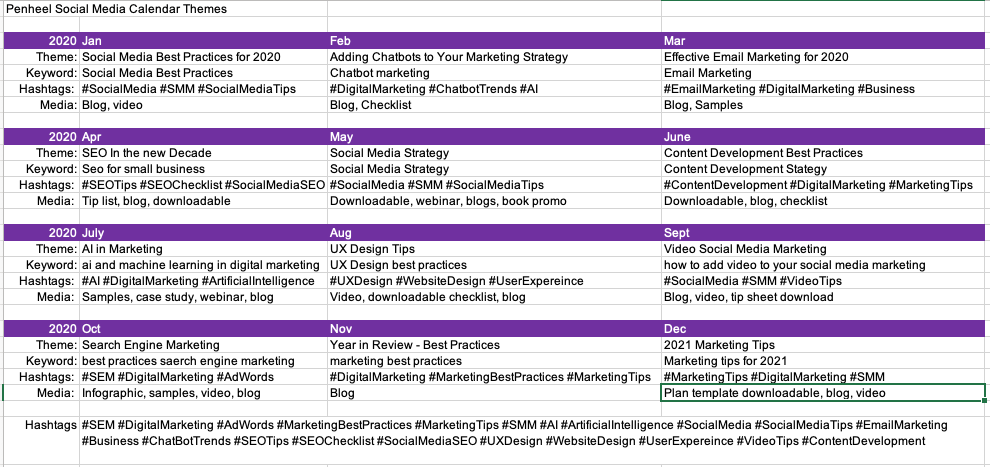 The hardest part is the execution. Try to make this list something you can actually accomplish. The more overwhelming it is, the more likely you'll stop executing the plan.
Secret #2: Re-purpose
Create the content once and then re-purpose it. For example, write the blog post, then use it for your video script, or take the bullet points from it to create a checklist or infographic.
Secret #3: Get Help
Reach out to your team for help. If you don't have a team, work with freelancers or subcontractors to help you accomplish your goal. For example, if you're not a writer or graphic designer (ahem…we are!), work with those who specialize in that service.
Secret #4: Measure
Track and measure the success for each month's topic. You can do that with your website analytics by tracking content page views, new/returning visitors, downloads, video views/play, and more.
Here are some additional resources to help you build content easily and effectively.